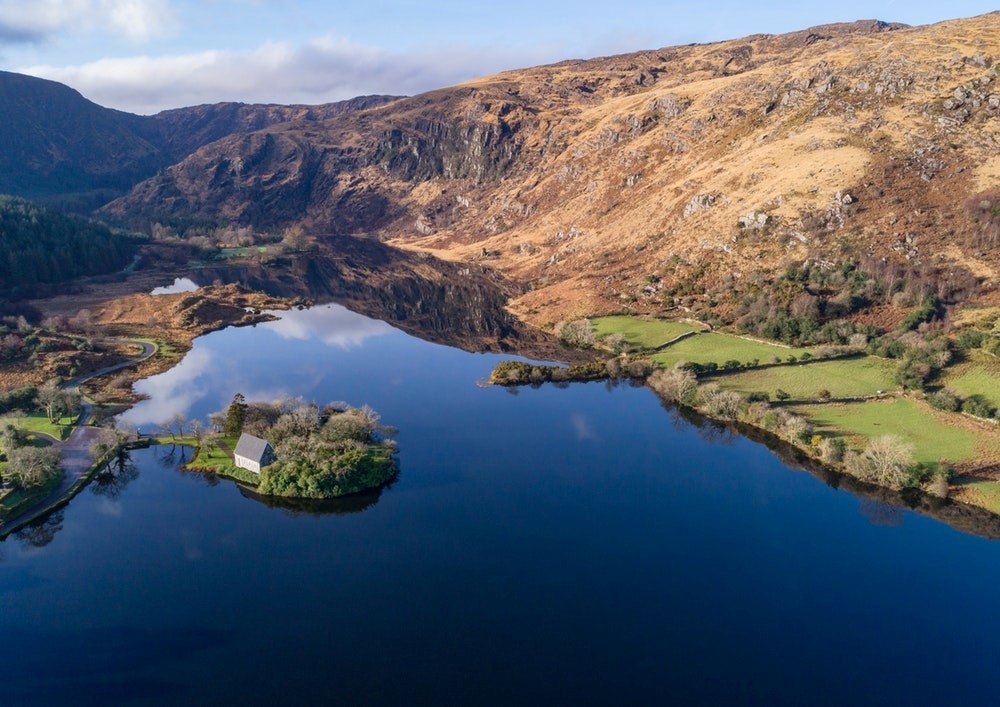 The image is of Gougane Barra, a few miles from where I live in the southwest of Ireland, and it is also where many centuries ago monks went in secret to reflect on life. And similarly a listener of #SITN commented that I talk a lot about value creation on the guest mentor interviews and on the Monday Memos but where did I get this passion from?
Well I just want to amend that question a bit because before I answer the why about where my passion came from I'd prefer to answer for whom. Fundamentally business is about people, and helping people get something they want but don't yet have. In effect it is closing that have-want gap, and to do that we need to understand people, connect with them, on a human level, which is actually, not only a really good way to help them feel good about our interaction together but at the same time it also helps ourselves feel pretty good about it too.
And so to the background and story of my route to having a passion for value creation. I didn't take the traditional route to accountancy, when I left school my first full time job was in field sales, selling sugared water, namely Pepsi and for any British listeners Tango. Why? I felt I could do it and because sales was all I knew at the time, my earliest memories are of spending my weekends with my dad on the road who was a bread salesman, going to shops, restaurants, supermarkets, and then on my summers I used to help my uncles on my mum's side who were also salespeople on the road. My first employers also gave me a company car which was pretty cool as an 18-year-old and with the commissions from hitting targets it could be quite a lucrative job. Other than my first month whilst figuring out the routes, commissions system and doing 18 field visits a day, I hit and exceeded all the targets they set of me.
I was always told I was good with numbers and figuring out how to make the numbers work for customers, we used to get these sales cheat sheets but I used to rewrite them and do up my own ones with marker pens to show customers the potential margins and returns if they bought from me, my first ever bit of commercial finance scenario modelling.
And I also knew all the prices of my competitors' products and where in the locality they could be purchased, so I used to openly share these with customers which they appreciated, since they knew I was sincere in wanting the best outcome from them. They also knew I looked after them and they looked after me, in fact little did I know it but we were both creating value for each other, as they used to recommend me to other accounts in their network, so creating new customers became easier.
I also read a book at the time that had a great influence on me, The One Minute $alesperson, by Ken Blanchard, who wrote salesperson as:
$ALES-PERSON
Because behind every sale there is a Person and the $ symbol instead of an S signified that it was our role to create value for that person. And how to unlock that $ value was to connect and engage:
ask have and want questions, the gap would represent an articulated goal and problem to solve, show them how to close the gap you've added value, then close the gap and you've created value.
Introvert at heart
So that meant because my customers felt I was delivering value for them they were very loyal, but at heart I'm an introvert, so a life always on the road did not suit me. I still loved business, the excitement of finding value creation opportunities, and since I was always told I was good with numbers then learning accountancy and finance seemed a nice fit for a future career.
Creating value in Finance
Given my orientation towards helping others achieve their goals as opposed to finding problems, allowed me when working in Finance the opportunity to start creating value from day one. My first job in accounting was as a temp in the mail room of a shared services accounts department of a Scotch whisky business scanning in invoices and credit notes, however because of my experience in the field, I noted that we were being charged for more pallet crates than were being credited.
When I queried this with the controller in Scotland apparently, we should have been credited but it transpired there was no controls for returning the pallets to the suppliers to credit them off. So I got moved from the mail room to a computer terminal to match off the purchase orders to the goods received and invoices (3 way matching) and low and behold I helped eliminate a £1m blackhole during my summer holidays. I got a 2 week salary bonus on top of my wage for my troubles and a very rare bottle Scotch which didn't last very long when I went back to Uni.
Towards scaling value
When you create value for someone you get this great buzz, sometimes there are great financial rewards, and nearly all the time you get really positive comments and testimonials. However, by ourselves, out on our own, our value creation potential is limited to just that, ourselves, so I thought what if I could help others realise and create value themselves, I could make a bigger impact, but I didn't have the tools, training, etc… to do this. And by the way this is a huge gap in accounting training. It's very self-centred on the individual learner and less about realizing value through helping others reach and nurture their value creation potential. So it was one thing being able to create and capture value by myself for the business but I needed to be able to scale, so I started out as a leader, and when I did, I sucked at it.
The value of great mentors
That's when mentors came to my rescue and helped me navigate through the mess I was creating for myself and others. Their hard won lessons and advice helped me raise my standards faster than I could have on my own. Over the last 14 years of my career as a leader they have helped me reflect and learn how to systemize and commercialise value creation into a simple repeatable process that starts returning value for others within days.
It's also led to the #SITN show, with audience views, listens and engagement of 15,000 per month and still growing in 130 countries, all in less than a year, so it's returning great value for the current audience, however with over 5 million accountants and accounting students worldwide we could be doing much better and spreading the word. And that's another cool thing with value creation and capture, it's building on the value added and trying to help others improve even 1% each and every day. As one of our guest mentors previously noted those 1%s compound to 3678% better across the year, so I love the creating value and the power of numbers. You could say they're both a passion of mine.
Do you have a secret passion for creating value with the numbers? And where did it come from?
The author Andrew Codd is the producer of the Strength in the Numbers Podcast which interviews real finance practitioners to break down their hard won lessons and deconstruct their practical methods that work on the job and which you won't typically find in textbooks or exams so that we create more influential finance professionals worldwide who solve meaningful problems for their organisations and in return have fun, rewarding and successful careers in finance.